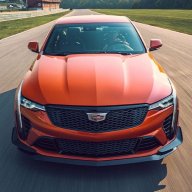 Administrator
Staff member
Joined

Nov 3, 2011
Messages

3,891
Location
V-Series Cadillac(s)?

Not Yet!
Spied: Cadillac ATS-V, production 2013 Cadillac ATS
Autoweek
April 10, 2012
by Rory Carroll
Autoweek reader Christina McNeal shot these photos of a 2013 Cadillac ATS out cruising the highways of Michigan. General Motors' BMW 3-series fighter was finished in a metallic dark blue and wore manufacturer plates. According to its badging, it was powered by Cadillac's 3.6-liter six.
The bigger news is McNeal's short, blurry videos of a heavily camouflaged ATS on the same stretch of highway. This incognito ATS has been spotted a few times by Autoweek staffers, but this is the first hard evidence we've managed to secure.
Since both the video and the photos were shot very recently, and since Cadillac is running the regular ATS all over creation in the buff, it's tempting to imagine that the camouflaged ATS is a special ATS.
Images and videos available at link.
​