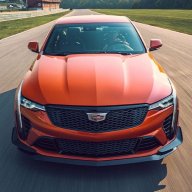 Administrator
Staff member
Joined

Nov 3, 2011
Messages

3,893
Location
V-Series Cadillac(s)?

Not Yet!
Road test: 2011 Cadillac CTS-V
For the young and young at heart
By Graeme Fletcher, National Post
The 2011 Cadillac CTS-V.
Photograph by: Graeme Fletcher , Postmedia News
The original CTS, which debuted in 2001, set a new standard for General Motors' premium brand. It was contemporary, well conceived and a delightful car in its own right. The second-generation CTS takes the original's solid grounding and builds on it to the point where it is a match for any luxury car.
This time around, it is offered in coupe, sedan and wagon versions, each of which fills a slot in the market. However, if it's a little more spice in one's driving life that's demanded, there are the CTS-V derivatives. Each is an audacious ride that is world-class all the way.
What separates the V coupe from its mortal kin is the 6.2-litre supercharged engine that's shoehorned into the engine bay. This thing puts a stampeding 556 horsepower at the driver's right boot. To say it is enough is an understatement. However, what really transforms the drive is the torque -- there's 551 pound-feet available at a low 3,800 rpm. The enormity of the plateau means that, at just about any speed and almost any gear, the CTS-V just picks up its exaggerated side sills and rockets forth. It takes all of 4.4 seconds, according to my handheld stopwatch, to warp the riders from rest to 100 kilometres an hour. That is good, but it is the mid-range and the 80-to-120-km/h passing test that puts it up there with the world's elite sports cars. At 3.3 seconds, it is supremely fast.
Full Story:
Road test: 2011 Cadillac CTS-V