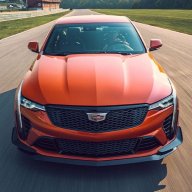 Administrator
Staff member
Joined

Nov 3, 2011
Messages

3,891
Location
V-Series Cadillac(s)?

Not Yet!
New 2.0L Turbo Engine Boosts the Cadillac ATS
2011-12-14
135 horsepower per liter among top-performing engines in the world
Compact ATS debuts at North American International Auto Show in Detroit
DETROIT – A new high-performance 2.0L turbocharged four-cylinder engine will debut in the all-new 2013 Cadillac ATS compact luxury sedan, which will be revealed at the 2012 North American International Auto Show in January.
The Cadillac-tuned, direct-injected engine will produce an estimated 270 horsepower (201 kW). At 135 horsepower per liter, it will be one of the most power-dense automotive engines, besting the highest-performing engines from luxury competitors such as Audi, BMW and Mercedes.
"This engine is the perfect match for the new ATS, which will be a refined performance luxury sedan," said Don Butler, Cadillac vice president of Global Marketing. "The 2.0T has an exceptionally smooth and responsive power curve that will make the ATS nimble, quick and fun to drive."
The new 2.0T highlights a broad engine lineup that will power the ATS which is slated to begin production next summer. Cadillac will also offer a normally aspirated 2.5L four cylinder engine and a 3.6L V-6 engine in the ATS.
The 2.0T builds on the advanced-technology heritage of previous GM turbo engines with features that enhance efficiency, durability and refinement.
Among the 2.0T engine's highlights: a direct-injection twin-cam, four-valve-per-cylinder engine with continuously variable valve timing; twin-scroll turbocharger with air-to-air intercooler; forged-steel crankshaft with modular balance shaft system; and a two-stage variable-displacement oil pump with jet-spray piston cooling.
Overall engine friction is reduced by up to 16 percent. The low-friction design means engine power is delivered more efficiently.
Proprietary computational fluid dynamics analysis techniques were used to develop an all-new combustion system with a higher compression ratio, which also helped boost efficiency.
"The 2.0T is one of the most advanced and efficient engines of its kind, and contributes to the ATS's exceptional balance of performance and great fuel efficiency," said Mike Anderson, chief engineer for the 2.0T engine.
The 2.0T has a wide torque curve, delivering 90 percent of its peak 260 lb-ft. of torque (353 Nm) from 1,500 rpm to 5,800 rpm – giving the ATS the feeling of immediate power, whether from launch at a stop light or during higher-speed maneuvers, such as passing.
The turbocharger generates up to 20 pounds of boost and its twin-scroll design helps optimize power availability, virtually eliminating turbo lag and helping deliver a broad power band.
"It has the exhilarating, responsive power available when you want it, yet can provide the fuel efficiency that will make the ATS a fully competitive vehicle in global markets," Anderson said.
At 135 hp/L, the ATS 2.0T four-cylinder turbo engine has the highest power density among key competitors, including:
Audi A4's 2.0L turbo (105.5 hp/L)
BMW M3's V-8 (103.5 hp/L)
Lexus IS F's V-8 (83.2 hp/L)
Mercedes-Benz C250's 1.8L turbo (111.6 hp/L)
Additional details on the ATS will be announced at the 2012 NAIAS. The ATS will be built at the Lansing Grand River plant alongside the Cadillac CTS Sedan, Coupe and Sport Wagon and V-Series performance cars.
About Cadillac
Cadillac has been a leading luxury auto brand since 1902. In recent years, Cadillac has engineered a historic renaissance led by artful engineering and advanced technology. More information on Cadillac can be found at media.cadillac.com.