Joined

Jan 10, 2012
Messages

4
Location
V-Series Cadillac(s)?

2011 Cadillac CTS-V Sedan
When the 2009 CTS-V came out with the automatic transmission, I decided to buy one. I don't buy new cars so it was 'wait a few years' time. I got close in 2012 and joined this forum but prices were not coming down much. I told my wife I wanted one pretty early on and even mentioned it to my kids -- who are in their 50s.
Fast forward to Mother's Day 2016 and my wife (of 54 years) and I are celebrating at our son's house with his wife and 7 children as well as my daughter and the oldest of her two boys (youngest was at last soccer game of the season with his father). The conversation turned to the cars in the movie
John Wick
and my son said he liked the Boss 429 Mustang in the movie but the car of his dreams was the Chevelle Super Sport. When he casually mentioned: "If $80,000.00 ever fell out of the sky into his lap, that's the car I would buy", it must have hit a nerve in my wife. To her it meant he was just waiting for us to die so he could spend his inheritance. That evening my wife told me "GO BUY THE CADILLAC!!!" and I just didn't feel like fighting about it. It must have been some kind of Kismet or Karma because there was a 2011 for sale six miles from my house. I had been looking for a red/tan one and this was gray/black but I went to look anyway. It had 11,704 miles and not a scratch anywhere. My parents owned a '53 Oldsmobile with a similar metallic gray exterior and I realized this V was meant for me. Not a lot of haggling. Tiny used car lot that specializes in low mileage Mercedes, Porsches, Corvettes and Cadillacs. He wanted $42,900 and I wanted to spend $40,000 so we met in the middle. I haven't sussed out all the options but it has the Recaro seats and Chrome 19's. It also has an AirRaid CAI and Corsa mufflers (I didn't crawl under to see if it has long tubes but I doubt it -- the mufflers are clamped on.
I assume my post is useless without pictures so here's a few from the dealer: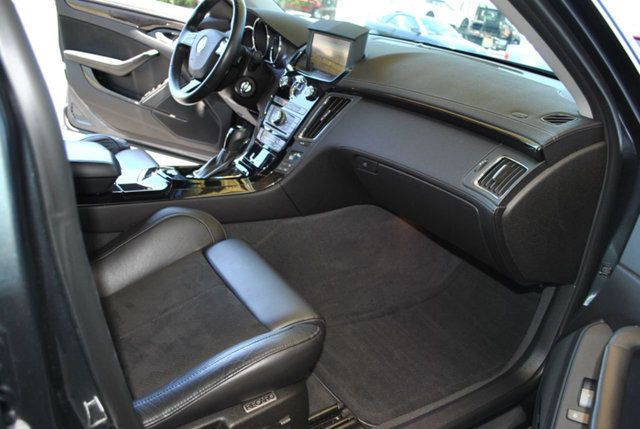 Last edited: