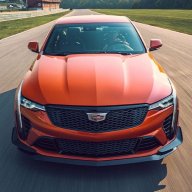 Administrator
Staff member
Joined

Nov 3, 2011
Messages

3,871
Location
V-Series Cadillac(s)?

Not Yet!
Limited-run CTS-V coupe on the way

Mike Colias RSS feed
Automotive News
April 21, 2014 - 12:01 am ET
NEW YORK
-- Cadillac plans to make a limited-edition CTS-V coupe for an abbreviated 2015 model year, closing out a five-year run that helped the brand earn back credibility among luxury buyers.
Cadillac will share details about the model with dealers in a few weeks, spokesman David Caldwell confirmed. General Motors expects to produce "a few hundred" units before ending production by the fall, he said.
The 2015 V-series run won't include the current-generation CTS-V wagon and sedan. Production of those models will end sometime this summer, he said.
* Full Story Linked Above *