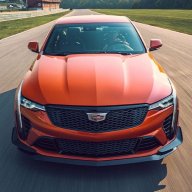 Administrator
Staff member
Joined

Nov 3, 2011
Messages

3,242
Location
V-Series Cadillac(s)?

Not Yet!
Jalopnik: 2016 Cadillac CTS-V: A Glorious 640 HP Exercise In Overkill
by Jason Torchinsky
Jalopnik
July 31, 2015
I'm coming into this review pretty conflicted. Not about the car — the new 2016 Cadillac CTS-V is an extremely impressive vehicle, and I'll cover why in plenty of detail — I'm conflicted about what this car actually means both to Cadillac and to us Americans, as people. It's not bad, necessarily — well, here, we'll just talk through this.
Read More on the Cadillac V-Net's Home Page >>>