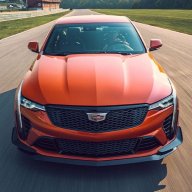 Administrator
Staff member
Joined

Nov 3, 2011
Messages

3,891
Location
V-Series Cadillac(s)?

Not Yet!
Inside the Cadillac Performance Academy turning V-Series owners into drivers
By Chris Shenon | Motoramic – Fri, Dec 14, 2012 5:00 PM EST
The downside of owning a machine like the 556-hp Cadillac CTS-V lies in finding a place to push its limits. You can't drag race in tag teams, run 100 mph or even develop the skill to slide it through a corner — unless you find yourself one early morning at the Cadillac V-Series Performance Academy at Mountain Motorsports Ranch in Pahrump, Nevada. Like I did.
Following the footsteps of Audi, BMW and Mercedes-Benz and their respective driving schools , Cadillac started the V-Series Performance Academy three years ago to provide driving enthusiasts with tips while burnishing the performance cred of the Cadillac CTS-V coupe, sedan, and wagon. The rear-wheel-drive CTS-V is essentially a luxury, five-passenger Corvette ZR1; both cars share a 6.2 liter supercharged V-8 engine and racing-derived upgrades.. Producing 556 hp and 551 ft-lbs of torque, it thunders from 0-60 mph in 4.0 seconds, and tops out at 198 mph. This car means business.
Before you can turn the wheel at speed, Don Harple, Cadillac's performance driving director, delivers a classroom lecture on the fundamentals, including proper driver position, seat placement, and where to grip the steering wheel — at 10 and 2 or 9 and 3. Most importantly, drive with your eyes: Look where you want to end up and your hands and feet will take you there. The faster you drive, the farther ahead you need to look.
Full Story:
Inside the Cadillac Performance Academy turning V-Series owners into drivers | Motoramic - Yahoo! Autos