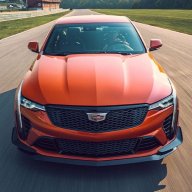 Administrator
Staff member
Joined

Nov 3, 2011
Messages

3,037
Location
V-Series Cadillac(s)?

Not Yet!
So just in case anyone is wondering why I haven't mentioned that the engine going into a CT5-V Blackwing is hand Built, is because I assumed (maybe wrongfully) that it was common knowledge.

I see all these other blogs making major headlines with it, and I'm actually laughing at their ridiculousness.

The CT5-V Blackwing engine is the same LT4 engine that went into the C7 Corvette Z06, all of which are hand Built by one tech at the Bowling Green Corvette Assembly Plant...since 2015.

To me, it's not breaking news, but apparently, the shortage of clickbait with all the other rags, knows no boundaries.

While, I pay a monthly fee for the server that this website is hosted on, I will not post the same BS that everyone else is posting just for the sake of clickbait, and to make money off of ads.

Just wanted to get that off my chest, because I'm amazed at how some of these blogs can turn something into major news, that really isn't.