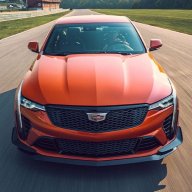 Administrator
Staff member
Joined

Nov 3, 2011
Messages

3,893
Location
V-Series Cadillac(s)?

Not Yet!
Interesting article. Thoughts? Opinions?
GM goes from bad to worse despite Obama bailout
August 21, 2012 | 8:00 pm
The Washington Examiner
Michael Barone, Senior Political Analyst
Readers with long memories may recall that Charles E. Wilson, president of General Motors and nominee for secretary of defense, got into trouble when he told a Senate committee, "What is good for the country is good for General Motors, and what's good for General Motors is good for the country."
That was in 1953, and Wilson was trying to make the point that General Motors was such a big company -- it sold about half the cars in the United States back then -- that its interests were inevitably aligned with those of the country as a whole.
Things are different now. General Motors' market share in the U.S. is below 20 percent. It has gone through bankruptcy and exists now thanks to a federal bailout. But Barack Obama seems to think that it's as closely aligned with the national interest as Charles E. Wilson did.
...the government still owns 500 million shares of GM, 26 percent of the total. It needs to sell them for $53 a share to recover its $49.5 billion bailout. But the stock price is about $20 a share, and the Treasury now estimates that the government will lose more than $25 billion if and when it sells...
Full Story:
GM goes from bad to worse despite Obama bailout | WashingtonExaminer.com