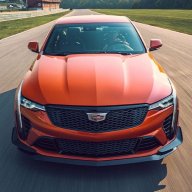 Administrator
Staff member
Joined

Nov 3, 2011
Messages

3,893
Location
V-Series Cadillac(s)?

Not Yet!
GM claims 'breakthrough' will make vehicles lighter, help gas mileage
By Nathan Bomey
Detroit Free Press Business Writer
September 24, 2012
General Motors plans to accelerate the replacement of steel with aluminum after researchers achieved what the company described as a "breakthrough" in welding technology.
GM hopes the technological advancement will boost fuel economy by making its vehicles lighter. Aluminum is lighter than steel, making it an enticing alternative when it is not too expensive. But several hurdles remain for aluminum, including production challenges.
GM believes it has solved one of those challenges: the frustrating process of welding aluminum body panels.
Full Story:
GM claims 'breakthrough' will make vehicles lighter, help gas mileage | General Motors news | Detroit Free Press | freep.com