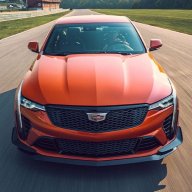 Administrator
Staff member
Joined

Nov 3, 2011
Messages

3,893
Location
V-Series Cadillac(s)?

Not Yet!
Dissected: 2013 Cadillac ATS
Cadillac's A-Game: Caddy's new small sedan should be light, fast, and fit. Here's a closer look.
February 2012
BY CSABA CSERE
Car and Driver
Walk into any BMW store, and you'll encounter six different car lines encompassing 12 body styles. It's a similar story at Audi and Mercedes-Benz retailers. At a Cadillac franchise, however, the only car available is the CTS, albeit in three body styles. And it's a half size too large to compete directly against the Audi A4, the BMW 3-series, and the Mercedes C-class, which are the bestsellers for each of their respective brands.
Cadillac is finally coming around to the idea that bigger is not always better. It has created the new ATS specifically to battle the aforementioned sporty compact sedans. When it goes on sale this summer, we expect a base price of about $33,500, rising to roughly $50,000 with all options. Given Cadillac's need for more cars, we anticipate that an ATS coupe, convertible, and wagon could follow the sedan.
Full Story:
Dissected: 2013 Cadillac ATS - Feature - Car and Driver