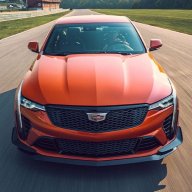 Administrator
Staff member
Joined

Nov 3, 2011
Messages

3,891
Location
V-Series Cadillac(s)?

Not Yet!
Clear and Cool with a High Chance of Driving Enjoyment

Cadillac's 'onboard weather station' checks engine levels for peak performance
2013-09-19
GM Media
Techniques meteorologists use to create weather reports also help ensure optimal performance from Cadillac's new Twin-Turbo V-6 engine.
DETROIT
– The techniques meteorologists use to create weather reports also help ensure optimal performance from Cadillac's new Twin-Turbo V-6 engine.
The power-dense engine, available on the 2014 CTS Vsport midsize luxury sedan and XTS Vsport full-size luxury sedan in the U.S. this fall, is equipped with a set of sensors that monitor air pressure, intake humidity and throttle intake temperature. The sensors act as an "onboard weather station" to continuously send data to the engine's wastegate and compressor bypass control system to make the most of engine efficiency.
"Just as a meteorologist uses high-tech sensors to detect barometric pressure, humidity, air flow and temperature, our system can detect these conditions and modify engine performance and efficiency accordingly," said Richard Bartlett, assistant chief engineer of General Motors' twin-turbo engine. "In the same way the tools for meteorology have become more precise over the years, so have the technologies for monitoring engine operation."
One of the conditions monitored by the Twin-Turbo V-6's sensor set is compressor surge, an air flow phenomena leading to flow reversal that can limit power output and increase unwanted noise. To reduce surge, the system sensors continually measure air pressure in the compressor, and optimize the wastegate position to produce maximum power and eliminate unwanted noise. The wastegate regulates the pressure at which exhaust gases pass to the turbine by opening or closing a vent to the exterior.
"Co-surge" is another phenomenon unique to twin-turbo engines that results when an air flow imbalance exists between competing compressors, leading one compressor to surge. Co-surge is most common in high altitudes, where low barometric pressure can more adversely affect vehicle performance.
Compressor air flow sensors allow the Twin-Turbo V-6 to correct air imbalances by repositioning a pair of vacuum-actuated wastegates on each turbocharger. This process allows the exhaust to bypass the turbocharger's turbine wheel and merge into the exhaust stream, allowing for the ideal turbine speed throughout the rpm band.
During spirited driving, compressed air temperature can exceed 265 degrees Fahrenheit. Cadillac's onboard weather station detects temperature conditions and a unique charge air cooling system reduces the temperature by more than 130 degrees, increasing the air density to provide maximum power and performance.
Likewise, the Twin-Turbo V-6's humidity sensor monitors moisture in the air to modify combustion spark and cam timing to make the most of engine efficiency and performance whether driving in often-wet Seattle or desert-dry Las Vegas.
About Cadillac
Cadillac has been a leading luxury auto brand since 1902. Today Cadillac is growing globally, driven by an expanding product portfolio featuring dramatic design and technology. More information on Cadillac appears at
Luxury Cars, SUVs, Sedans, Coupes, and Crossovers | Cadillac
. Cadillac's media website with information, images and video can be found at media.cadillac.com.
# # #