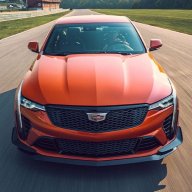 Administrator
Staff member
Joined

Nov 3, 2011
Messages

3,810
Location
V-Series Cadillac(s)?

Not Yet!
Capsule Review: 2014 Cadillac CTS V Sport
By Timothy Cain on August 19, 2014
The Truth About Cars
This is not a luxury sedan. It is not an upscale family sedan. The Cadillac CTS V Sport is a performance car sheathed in an overtly Cadillac body.
Lightweight body parts. Brembo brakes with optional performance linings. Two turbos. Two driven wheels out back. Staggered tires with 275s out back.
It's not the numbers – 420 horsepower, 430 lb-ft of torque, 0-100 mph in 10.5 seconds according to Car & Driver, braking from 60 to rest in 103 feet according to Edmunds – that turn the CTS from an indirect successor of the Fleetwood into the most dynamic car in its class. No, the sensation of athleticism in the CTS V Sport is not entirely quantifiable.
The overwhelming impression that the CTS V Sport is a sports car, rather than a car that relies on feature count or historic imagery to excite, is an impression gleaned from a few pushes of the console-mounted driver-selectable button: Tour becomes Sport becomes Track.
Thing is, even in that most comfort-oriented Tour mode, the CTS V Sport comes across as a lively package, like a frisky little subcompact hatchback which suggests a performance version with stiffened suspension and a bit more power would be a home run.
Full Story:
Capsule Review: 2014 Cadillac CTS V Sport | The Truth About Cars