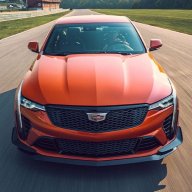 Administrator
Staff member
Joined

Nov 3, 2011
Messages

3,809
Location
V-Series Cadillac(s)?

Not Yet!
Interesting editorial:
The chase begins.
By Peter M. De Lorenzo
The AutoExtremist.com
(Posted 6/26, 12:00 p.m.)
Detroit. In the not too distant future, Cadillac is going to come out swinging with an ad campaign for the new ATS, the luxury brand's point-blank answer to the vaunted BMW 3 Series. Cadillac and GM executives have been very blunt in their stated mission with the ATS, in that they're not only going after the BMW's image spear carrier, they expect that the ATS will meet or exceed the 3 Series in every measure.
A tall order indeed.
First of all, let's review the target that Cadillac is going after with its ATS. The BMW 3 Series isn't just BMW's bread and butter - it's the machine that has defined the sports sedan segment since 1975.
Everything BMW stands for is embodied in the spirit and the execution of the 3 Series: The disciplined adherence to the art and function of driving, the superb chassis dynamics, the faultless execution, these are all hallmarks of what made BMW great way back when and what still make it great – at least for the most part – today.
To take it further, the 3 Series has defined BMW as much as it has defined the segment. And the fact that BMW has managed to display a relentless level of focused consistency with the 3 Series over time has made the company the envy of product development people throughout the industry for years.
Full Story:
THE AUTOEXTREMIST - Rants - Autoextremist.com ~ the bare-knuckled, unvarnished, high octane truth...
What do you think? Can Cadillac finally knock BMW off its pedestal?