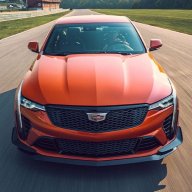 Administrator
Staff member
Joined

Nov 3, 2011
Messages

3,866
Location
V-Series Cadillac(s)?

Not Yet!
Cadillac to Offer Recaro Performance Luxury Seat Upgrade for the 2016 ATS-V
AUBURN HILLS, Mich., Jan. 13, 2015 /PRNewswire/
-- Customers looking to purchase the upcoming 2016 Cadillac ATS-V will have the option of Recaro performance luxury seats. The hand-crafted seats will have leather and perforated Miko® suede trim covers, top stitching and integrated headrests with sportive cutouts. Cadillac provided a first look at the Recaro seats at the Nov. 18, 2014 unveiling of the 2016 ATS-V in Los Angeles.
Full Press Release:
Cadillac to Offer Recaro Performance Luxury Seat Upgrade for the 2016 ATS-V | Cadillac V-Net