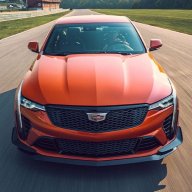 Administrator
Staff member
Joined

Nov 3, 2011
Messages

3,893
Location
V-Series Cadillac(s)?

Not Yet!
Cadillac's ultimate flagship, the CT6 was introduced to the automotive world three years ago and since then, the car has been attracting a decent following with its world class design and cutting edge technology.
Back then, much of the automotive world thought that the V8 engine was about to be ushered into the horizon in favor of smaller, lighter weight V6 engines fed by forced induction. Given the new 2019 Cadillac CT6 V-Sport's all new 4.2L Twin-Turbo V8 engine, it looks like the V8 will stick around!
This morning, Cadillac announced to the world the 2019 Cadillac CT6 V-Sport complete with styling cues from the Cadillac Esacala concept car and an all new V8 engine putting out 550 horsepower and 627 lb-ft of torque.
For the complete press release and photos, visit the
Cadillac V-Net's article
!