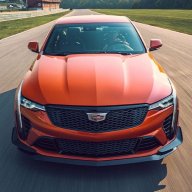 Administrator
Staff member
Joined

Nov 3, 2011
Messages

3,891
Location
V-Series Cadillac(s)?

Not Yet!
Cadillac shows plenty of promise. Will it deliver?
JEREMY CATO
Special to The Globe & Mail
Published Tuesday, Jul. 17 2012, 5:43 PM EDT
Last updated Tuesday, Jul. 17 2012, 5:48 PM EDT
The 2013 Cadillac CTS-V coupe is a 555-horsepower, intercooled and supercharged beast of a performance car and it hints at all the promise in the world for General Motors' 110-year-old premium brand. The thing is, though, Cadillac has been largely about promise, unrealized promise, for more than a decade.
So here in the summer of 2012, Cadillac needs to start delivering in a big and sustained way – delivering on the promise, or should I say promises. Even now, I take with a large grain of salt these widespread reports about GM CEO Dan Akerson's declared goal of quadrupling annual Cadillac sales in China to more than 150,000 units by 2018. When GM's North American president, Mark Reuss, tells trade journal Automotive News that the upcoming ATS sports sedan will "win" against the BMW 3-Series, I suppress a yawn and recall the first-generation Cadillac CTS was also supposed to win against the 3, using a "bigger-and-better-for-the-same-money" formula that never fulfilled its promise.
Full Story:
Cadillac shows plenty of promise. Will it deliver? - The Globe and Mail