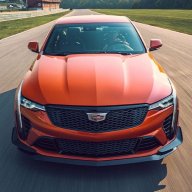 Administrator
Staff member
Joined

Nov 3, 2011
Messages

3,867
Location
V-Series Cadillac(s)?

Not Yet!
Q&A: HOWARD DRAKE, CADILLAC NATIONAL DEALER COUNCIL
Cadillac dealers adjusting to busy transition
by Mike Colias
Automotive News
January 25, 2014 - 2:00 pm ET
To say Cadillac has been going through a busy transition would be an understatement. In the last 18 months the brand has introduced two new nameplates -- the XTS large sedan and ATS compact sedan -- and launched the redesigned CTS mid-sized sedan. The new ELR plug-in coupe and the redesigned Escalade SUV roll out during the first quarter.
And Cadillac's top sales and marketing executives are new to General Motors. Marketing chief and former BMW executive Uwe Ellinghaus started his job this month, while sales chief Bill Peffer arrived from Nissan in October. And Cadillac last year hired a new advertising agency, Rogue.
Cadillac dealers are "craving stability" from the factory while also trying to increase the expertise of their sales staff to keep up with all of the fresh product, says Howard Drake, chairman of the Cadillac National Dealer Council.
Drake, owner of Casa de Cadillac in Sherman Oaks, Calif., said the council is urging Cadillac executives to provide sufficient marketing support for all the vehicle launches. He spoke with Staff Reporter Mike Colias.
Q: It looks like 2013 was the best in recent memory for Cadillac dealers, from a sales standpoint.
A: Yes. But we're struggling to get back to where we were in middle 2000s. We have a ways to go. We went into 2013 with two new models, ATS and XTS. What everyone is trying to reconcile is, "Yeah, things are a lot better. But how good should they be?"
Full Story:
http://www.autonews.com/article/201...rs-adjusting-to-busy-transition#ixzz2rT8S3gPn