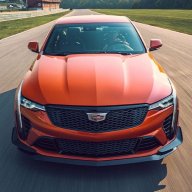 Administrator
Staff member
Joined

Nov 3, 2011
Messages

3,871
Location
V-Series Cadillac(s)?

Not Yet!
Cadillac CTS Vsport Named an Edmunds.com Top Rated Vehicle

Escalade among 2014 Most Popular Premium Luxury SUVs on Edmunds.com
2014-04-16
NEW YORK –
Edmunds.com today named the 2014 Cadillac CTS Vsport sedan one of its Top Rated Vehicles. The 2014 Cadillac Escalade was named one of Edmunds.com's Most Popular Premium Luxury SUVs.
"These recognitions further solidify Cadillac's continued elevation to the heart of the luxury market," said Bill Peffer, U.S. vice president of Cadillac sales and service. "It's gratifying to see the experts and buyers agree that Cadillac offers one of the strongest lineups available on the market."
The 2014 rear-wheel drive CTS offers three powertrains: A 272-hp 2.0-liter turbocharged four-cylinder is standard and EPA-rated at 20/30 mpg city/highway; a 321-hp naturally aspirated V-6 is available as is all-wheel drive. Exclusive to CTS Vsport is the all-new 420-hp 3.6-liter Cadillac Twin-Turbo V-6 engine. The 2014 CTS is also the first Cadillac vehicle to receive the brand's eight-speed automatic.
"With a contemporary new look, a revised interior and more powerful and fuel-efficient engines, the redesigned 2014 Cadillac CTS is a serious contender in the midsize luxury sedan class," said Edmunds.com Editor-In-Chief Scott Oldham.
The awards from Edmunds.com join a growing list of accolades for Cadillac. CTS last year was named Motor Trend Car of the Year, one of Car and Driver's 10 Best and Road & Track's 2013 Luxury Car. Earlier this month, CTS was named an Automobile Magazine 2014 All-Star.
The 2013 Cadillac ATS sedan was the MotorWeek "Best of the Year" Drivers' Choice award winner, as well as the MotorWeek Drivers' Choice Best Sport Sedan. Escalade recently was recognized in a third-party survey for dependability. And the Cadillac brand was recognized as a J.D. Power 2014 Customer Champion.
About Cadillac
Cadillac has been a leading luxury auto brand since 1902. Today Cadillac is growing globally, driven by an expanding product portfolio featuring dramatic design and technology. More information on Cadillac appears at
Luxury Cars, SUVs, Sedans, Coupes, and Crossovers | Cadillac
. Cadillac's media website with information, images and video can be found at media.cadillac.com.