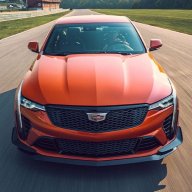 Administrator
Staff member
Joined

Nov 3, 2011
Messages

3,893
Location
V-Series Cadillac(s)?

Not Yet!
Cadillac CTS-V makes a powerful statement
Luxe coupe will woo Detroit fans
By Justin Mastine-Frost, Edmonton Journal October 10, 2012 1:00 PM
When Cadillac first started pushing its "Art and Science" design philosophy, it was a complete departure from the old, soft, conservative Cadillac many people had grown to love. The new esthetic pushed as far away from its original brand identity as possible, and left many folks wondering whether the bold new venture would take hold.
On the farthest edge of this new identity sits the CTS-V Coupe. This high-output barnstorming fighter jet is anything but your average old Caddy. It was built to be an all-out performer, and I have to say they've done quite a job of it. With a zero-to-100 km/h time of 3.9 seconds, it easily outruns much of its competition, at least in a straight line.
To keep it tolerable through the corners, Cadillac took to the famed Nurburgring track in Germany, spending countless hours tuning the chassis. That said, the coupe seems more "tail-happy" than some German offerings.
Indeed, after a few hours of bombing around in the CTS-V, I was wondering if the usually sticky Michelin Pilot Sport tires were mislabelled. Known for sticking to the pavement like glue, these tires seemed quite content to howl and smoke at the faintest provocation.
Full Story:
Cadillac CTS-V makes a powerful statement