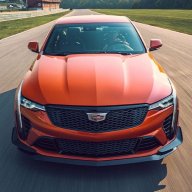 Administrator
Staff member
Joined

Nov 3, 2011
Messages

3,867
Location
V-Series Cadillac(s)?

Not Yet!
Cadillac CTS-V coupe
By Nauman Farooq
The Weekly Voice
As 2012 draws to an end, I was looking back at what was the most memorable automotive experience of this year. While there were quite a few to pick from, the one I have talked about the most was being driven around Canadian Tire Motorsports Park (formerly known as Mosport) by the three-time 'Rolex 24-Hours at Daytona' winner Andy Pilgrim (who has won many other types of races in his impressive career).
Pilgrim still races and was set to compete in the Pirelli World Challenge race on this weekend back in June. His race car for the last few years has been a Cadillac CTS-V coupe, but since he had crashed his race car that morning in practice (it was being rebuilt in the garage), he took me out in the road-going version of the CTS-V coupe.
On paper, the road car should be faster, since it has 556-hp vs. 460-hp of the race car (the race car has to run restrictors to keep the power-to-weight ratio of all the racing cars about the same, to even out the competition), however the road car is much heavier than the race car, has lesser grip, and is not set up to take up hours upon hours of abuse on a race track.
Still, the production CTS-V coupe is a very fast car, and a very fast driver was about to take me out for a very fast lap. Was I scared? A tiny bit.
Full Story:
Cadillac CTS-V coupe | Weekly Voice - The Newspaper for South Asians in GTA