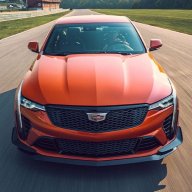 Administrator
Staff member
Joined

Nov 3, 2011
Messages

3,891
Location
V-Series Cadillac(s)?

Not Yet!
Cadillac Continues Development of All-New ATS
Handpicked engineers tasked to create agile sport sedan
2011-11-25
DETROIT
– It's a given that the luxury cars contain high technology, but the finest must have something that cannot appear on the specification chart: expertise. Engineers working on the all-new Cadillac ATS, which begins production in 2012, were handpicked based on their roles in developing other top Cadillacs – and how well they can drive and evaluate cars on grueling test tracks.
Their shared goal: Create a new compact sport sedan challenging the best cars in that category. Most of the engineers on the team also developed Cadillac's CTS and V-Series high-performance models, and have the highest level of training as test drivers. Some are certified drivers on Germany's famed Nurburgring test track.
"It's been the persistent attention to detail in noise-vibration-harshness, the gram-by-gram mass reduction, and consistent focus on 'fun to drive' attributes that led this team to hone the suspension and steering in the demanding environments of the German Autobahn and Nurburgring Nordschleife," said ATS lead development engineer Chris Berube.
The ATS will be unveiled in 2012 and will be built at the Lansing Grand River plant in Lansing, Mich., alongside the CTS Coupe, Sedan and Sport Wagon family.
A series of videos featuring highlights of the car's development are available on the Cadillac YouTube page and on the Cadillac media website.
About Cadillac
Cadillac has been a leading luxury auto brand since 1902. In recent years, Cadillac has engineered a historic renaissance led by artful engineering and advanced technology. More information on Cadillac can be found at media.cadillac.com.