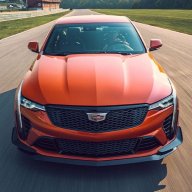 Administrator
Staff member
Joined

Nov 3, 2011
Messages

3,891
Location
V-Series Cadillac(s)?

Not Yet!
Cadillac ATS-V mule spied near GM Milford Proving Grounds
By Patrick Rall on Wed, 04/10/2013
Torque News
Last night while I was out gathering some data on my most recent test vehicle, I saw a Cadillac ATS test "mule" driving near the General Motors Milford Proving Grounds that appeared to have a vastly more aggressive exterior design – leading me to believe that it was either the ATS-V or a new ATS VSport package similar to the freshly announced 2014 CTS VSport.
The car that I believe to be a Cadillac ATS-V test mule that was cruising through Milford Michigan looked like so many of the other GM mules seen touring the local streets with rough white paint, randomly checkered body panels here and there, an unfinished looking grille and roughly painted black wheels. The car was driving towards me in traffic and the awkward checkered camouflage caught my eye as it often does and while there are plenty of normal ATS mules on the local roads – this car was different.
Full Story:
Cadillac ATS-V mule spied near GM Milford Proving Grounds