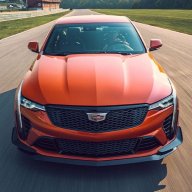 Administrator
Staff member
Joined

Nov 3, 2011
Messages

3,867
Location
V-Series Cadillac(s)?

Not Yet!
Cadillac ATS Has Unique PAL for Spirited Driving
Performance Algorithm Liftfoot technology powers through corners
2012-12-20
DETROIT
– The new Cadillac ATS's sport-tuned dynamics come to life with a performance-oriented component that improves acceleration control and handling through curves during spirited driving.
Performance Algorithm Liftfoot, or PAL, detects when the driver demands more performance from the vehicle while taking a curve and automatically drops the transmission to a lower gear to improve acceleration out of the corner.
PAL is paired with ATS models with a six-speed automatic transmission, which engineers have perfected for quick-shift timing. PAL minimizes unneeded shifting and allows the driver to focus on the road and enjoy the ride.
"The ATS is built to deliver inspired driving dynamics when the driver desires it," said Adam Dean, Cadillac ATS ride and handling engineer. "When PAL is engaged, the driver will notice the ATS kick into a higher RPM."
When the ATS is in the driver selected "Sport" suspension mode and begins negotiating curves with sufficient cornering lateral force, the transmission computer commands downshifts to ensure the right gear is readily available. The lower gears aid in both braking into and maintaining control through the turn, and then accelerating out of the corner.
With continued high-throttle driving and aggressive braking, the transmission will maintain the lower gears to assist in acceleration and in preparing for the next corner. When more moderate driving conditions are detected – lower acceleration and cornering – the transmission will upshift sequentially through the gears, and exit PAL mode.
The transmission also features faster shift times, which have been improved to perfect RPM engine matching when downshifting through a corner.
Cadillac engineers refined PAL and other performance features on the 'Green Hell' – Nurburgring's Nordschleife Course – and other challenging roads. Driving enthusiasts are putting ATS to the test. In a recent
Motor Trend
comparison
of six-cylinder versions of the world's-finest sport sedans, ATS was judged the overall winner. The
New York Times
review
of ATS described it "a blast to drive on the road and track."
Cadillac
has been a leading luxury auto brand since 1902. In recent years, Cadillac has engineered a historic renaissance led by artful engineering and advanced technology. More information on Cadillac can be found at
media.cadillac.com
.
###
​