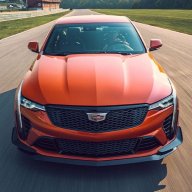 Administrator
Staff member
Joined

Nov 3, 2011
Messages

3,893
Location
V-Series Cadillac(s)?

Not Yet!
Cadillac's new twin-turbo system looks to kick turbo lag to the curb
New Vsport models feature twin-turbocharged V-6 engine producing 420-horsepower, 430 lb.-ft. of torque
BY Dan Ilika ON July 26, 2013
Canadian Manufacturing
DETROIT
—Anyone who has ever driven a boosted car knows that not all forced induction systems are created equal.
While superchargers are known for giving a stern shot of instant power to the drive wheels, they also have a reputation for pounding the pumps as much as the pavement.
The traditional turbocharger puts power and efficiency in the same package, but the lethargic lag of the average system can make the waiting game enough to make you feel like you're driving a grocery getter.
That's all about to change, if Cadillac has its way.
Added to the already boisterous Vsport line of luxury sedans, the Detroit automaker is launching its first-ever twin-turbo system to the 2014 CTS and XTS Vsport models, delivering boosted performance with little delivery time.
Full Story:
Cadillac looks to kick turbo lag to the curb with twin-turbo | Canadian Manufacturing