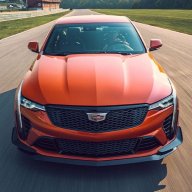 Administrator
Staff member
Joined

Nov 3, 2011
Messages

3,871
Location
V-Series Cadillac(s)?

Not Yet!
press release
Nov. 16, 2011, 12:01 a.m. EST
All-New Cadillac XTS to Offer Bose(R) Sound
FRAMINGHAM, Mass., Nov 16, 2011 (BUSINESS WIRE)
-- The newly crafted 2013 Cadillac XTS represents a breakthrough in luxury and technology for General Motors' flagship brand. And the vehicle's status is enhanced by a choice of two premium Bose systems: the optional 14-speaker Bose Studio Surround(R) sound system or the standard eight-speaker Bose sound system.
The Bose Studio Surround system
The Studio Surround system includes advanced automotive innovations from Bose, creating an immersive, multi-channel experience from nearly any source, and for any seat.
Bose SurroundStage(R) signal processing ensures a 360-degree sound field, and next-generation Bose Centerpoint(R) surround technology features an enhanced algorithm to better analyze stereo signals and convert them into separate, well-defined channels. Whether listening to satellite radio, CDs or MP3 files, music is more lifelike, reproduced with greater precision and balance, with every voice and instrument more distinct and defined.
The Studio Surround system features two Bose Personal(R) speakers built into each of the front seats. Unlike conventional designs, the Bose Personal speakers are combined with proprietary TrueSpace(R) signal processing technology to deliver spacious sound -- even though they're positioned just inches from the listener's ears. Each front-seat passenger can adjust the volume of their Personal speakers using the Surround Level Control feature.
For mid-high frequencies, three Bose Twiddler(R) neodymium speakers are placed in the instrument panel. For low-frequency performance, a woofer is placed in each front door, and another --- a stronger, more moisture-resistant Nd woofer -- is mounted on the rear deck, along with two additional mid/high-range Twiddlers. To complete the acoustic package, a wide-range speaker is in each of the rear doors.
The system's electronics are integral to the listening experience and include a new amplifier that is substantially smaller, lighter and more energy-efficient than conventional amplifiers, with no sacrifice in acoustic output. To better hear musical detail, Bose AudioPilot(R) noise compensation technology continuously monitors the sound level in the car, analyzes ambient noise, and then adjusts the music and program content --- not just the volume --- to reduce its effect.
Bose and Cadillac: Decades of Innovation
The XTS marks three decades of collaboration between Bose and Cadillac. Today, Bose sound systems are available in every Cadillac model, including the current CTS, STS, DTS, SRX Crossover and Escalade. For more information on Bose automotive systems and technologies, visit
www.Bose.com/automotive
.
About Bose Automotive Systems
In 1982, Bose engineers created the world's first factory-installed premium sound systems for General Motors luxury automobiles. Unlike conventional or aftermarket automotive systems, these Bose systems were specifically designed and tuned for the particular model in which they were installed, and they helped transform the automobile from a hostile listening environment into a haven for music enjoyment.
Since then, Bose has developed proprietary speaker designs, advanced amplification and signal processing technologies, and its own unique analysis and design tools for automotive sound systems, all based on a heritage of research and innovation.
Today, Bose automotive sound systems are recognized around the world as the industry benchmark for performance and customer satisfaction.
About Bose Corporation
Bose Corporation was founded in 1964 by Dr. Amar G. Bose, professor at the Massachusetts Institute of Technology. Today, the company is primarily known for acoustics; however, its research has resulted in products for non-audio fields. Bose inventions have improved the performance of:
-- Loudspeakers
-- Home entertainment systems
-- Automotive music systems designed for the interior acoustics of each car model (first introduced by Bose)
-- Noise reducing headsets for pilots and the public (first introduced by Bose)
-- Sound in public spaces
-- The production of sound for musicians requiring electronic amplification of their instruments
-- Materials testing and durability simulation instruments for biomedical applications
-- Driver suspension systems for heavy-duty trucks
SOURCE: Bose Corporation