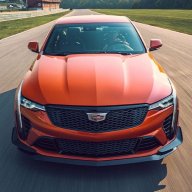 Administrator
Staff member
Joined

Nov 3, 2011
Messages

3,891
Location
V-Series Cadillac(s)?

Not Yet!
Cadillac CTS-V spotted with big exhaust, new grille?
Autoblog
By Steven J. Ewing
Posted Feb 20th 2014 11:27AM
If you thought Cadillac was content to leave its twin-turbocharged Vsport as the range-topping CTS, think again. Behold, our first good glimpse at the next-generation Cadillac CTS-V sedan, sporting more aggressive styling (somewhere under there), meaty quad-exhaust pipes, and what very well could be a new face for the V-badged Caddies.
Creating an all-new grille design seems like an awful lot of work just for a prototype, so it's very possible that the vertical-bar treatment you see here could make its way into production. Our spy photographers have pointed out that they've seen this same sort of grille treatment on prototypes for the smaller ATS-V sedan, and we've heard V-series models may soon have greater differentiation from the standard vehicles that sired them – that seems especially necessary if Cadillac insists on expanding this whole Vsport range.
*Full Article w/Pictures at Link