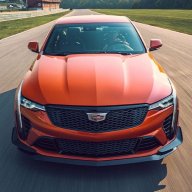 Administrator
Staff member
Joined

Nov 3, 2011
Messages

3,893
Location
V-Series Cadillac(s)?

Not Yet!
2016 Cadillac CT6 Will Have an Aluminum Body
By Todd Lassa
Automobile Magazine
Dec 23, 2014
Will the new Cadillac CT6 have the rakish, expressive styling of the Elmiraj show car, or will it be a conservative evolution of the luxury brand's current design language? While those questions will linger probably until the CT6 is unveiled later in 2015, AUTOMOBILE has learned this about the sedan, which uses General Motors' new Omega full-size rear-wheel-drive platform: It will have an aluminum body.
The Cadillac CT6, which will be a bit smaller than a Mercedes-Benz S-Class but larger than the midsize CTS, also will be the first to use an engine, or engines, from GM's upcoming four-/six-/eight-cylinder family. We have learned that while a CT6 Vsport has been approved for production, there's no word on a CT6-V yet, so some sort of turbocharged- or supercharged-six seems likely.
The aluminum body, which potentially keeps the new sedan in or close to the CTS's 3,700-4,100-pound weight category, suggests that the CT6 is designed to aim for the Mercedes CLS-Class, BMW 6 Series Gran Coupe, and Audi A7 even if its styling doesn't classify it as a so-called four-door sport coupe.
Full Story:
2016 Cadillac CT6 Will Have an Aluminum Body