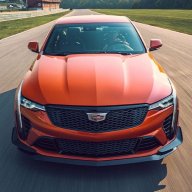 Administrator
Staff member
Joined

Nov 3, 2011
Messages

3,809
Location
V-Series Cadillac(s)?

Not Yet!
2014 Cadillac XTS Vsport review notes
A fitting Cadillac DTS/STS replacement
By: Autoweek editors on 12/05/2013
DIGITAL EDITOR ANDREW STOY:
Though the XTS has one of GM's nicest interiors ever, this big luxury barge is let down by its chassis and drivetrain. My suspicions are that the XTS is tuned on purpose to satisfy the needs of its former DTS customers who really just want a full-size sedan and aren't inclined to push a car anywhere near its limits. Viewed in that light, the XTS is decent, though I still found myself fighting the steering in relatively modest handling maneuvers. It's happiest when moving along in a straight line on the interstate.
I'm no fan of Cadillac's 3.6-liter "high feature" V6 in any application and it goes about its business in the XTS with its usual lack of refinement. "But it's the turbo version," you say; "410 hp!" Tell you what: if you find them, let me know because there was no indication they were under the hood or available at the wheels. Acceleration was unremarkable from both a standing start and during passing. I actually opened the hood when I got home to make sure the turbo engine was in fact installed in our particular car.
So the XTS isn't a driver's car, even in so-called Vsport trim. I will give GM full credit for getting its act together on interior design, however. Where previous full-size Cadillacs had elements of modern luxury design, they never failed to confound with a piece of chintzy plastic in some critical area. Not so with this car: It's impeccably detailed with gorgeous leather, touchpoints that would be at home in any Audi or Mercedes, and an electronic gauge cluster that appears borrowed from Jaguar/Land Rover. Rear seat room is almost LWB spacious, and the trunk is large enough to stash a Subaru BRZ for when the performance driving bug bites.
Full Story:
http://www.autoweek.com/article/20131205/carreviews/131209928#ixzz2mcLKRGLJ