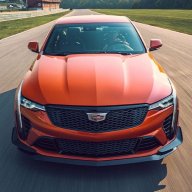 Administrator
Staff member
Joined

Nov 3, 2011
Messages

3,893
Location
V-Series Cadillac(s)?

Not Yet!
2014 Cadillac CTS Vsport Long-Term Update 1
By Mike Floyd | Photos By Motor Trend Staff | April 10, 2014 |
The miles are flying by in the Cadillac CTS Vsport, and it's not that much of a surprise given how quickly the twin-turbo powered Motor Trend Car of the Year moves out when the going gets fast. At a shade under 4000 pounds (3938, to be exact), the Vsport isn't exactly a lightweight, but its 420 horses have proven to be more than enough to get the Caddy rolling fast and furiously when the highway on-ramp light drops to green and I drop the hammer.
But as anyone who's driven in L.A.'s insane traffic knows, going fast is a relative term and you often spend an inordinate amount of time slowly rolling along or suddenly braking and swerving to avoid an accident. The Vsport excels in these areas. In low-speed stop-and-go the CTS is quiet in the cabin, and in Touring mode it soaks up road imperfections like Bounty soaks up spills. The four-piston Brembo calipers bite down hard on 13.6-inch vented discs up front. Along with a 12.4-inch disc, single piston setup out back and Pirelli P Zeros all around, the Vsport's roll can be slowed quickly. Its responsive helm also allows for quick and dirty maneuvers to help avoid a three-car pileup.
Guest driver and MT archivist Thomas Voehringer got a chance to air the Vsport out for a couple of weeks. He took a jab or two, but had a lot of interesting things to say in an entertaining way, many of which I agree with wholeheartedly. I'll let him take it from here:
Full Review
:
2014 Cadillac CTS Vsport Long-Term Update 1 - Motor Trend