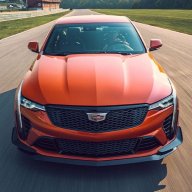 Administrator
Staff member
Joined

Nov 3, 2011
Messages

3,871
Location
V-Series Cadillac(s)?

Not Yet!
2014 Cadillac CTS-V Wagon First Test
Fourth Time's a Quick Charm
By Jonny Lieberman
Motor Trend Magazine
December 21, 2014
Tell me if this makes any sense: The 2014 Cadillac CTS-V Wagon you see here is the quickest-accelerating CTS-V we've ever tested. Not only that, but at 4,450 pounds, it's also the heaviest. Huh? Strange but true. Well, mostly true. This particular CTS-V Wagon is an automatic and has a sunroof, and as such it weighs 4,450 pounds. The last V Wagon we tested was a manual sans sunroof, and it weighed 4,353 pounds. We've tested another V-Wagon with a six-speed manual with a metal roof, and it weighed 4,371 pounds. The first CTS-V Wagon we ever tested way back in 2010 weighed in at 4,364 pounds. It was also a manual, and it had a sunroof. Seems that the automatic adds at least 80 pounds. Optional seats and wheels probably explain the rest of the density discrepancy.
Right, the quickness. This CTS-V Wagon was able to blast to 60 mph in 3.9 seconds. Quick, no? The quickest times we ever saw before (in ascending order) were 4.0 seconds flat, 4.2 seconds, and 4.3 seconds for our long-term loaner. For a little perspective, 3.9 seconds to 60 mph is the same time as the 50th Anniversary Porsche 911. That's a tenth of a second quicker than a Chevrolet Camaro Z/28 and a BMW M4. Nuts for a wagon, no? Yes, all-wheel-drive monsters such as the E63 AMG or Audi RS7 are even quicker (3.4 seconds for the Benz, 3.2 seconds for the RS7), but the AWD traction takes away from handling prowess. A recent trip to Austin, Texas, and the Circuit of the Americas F1 track with this very same CTS-V Wagon confirmed that. Besides, do you really need a wagon that hits 60 mph in less than 3.9 seconds? Don't answer that.
As for quarter-mile times, we've actually had one Caddy wagon that was as quick. This Cadillac goes 1,320 feet in 12.3 seconds, trapping out at 115.0 mph. The silver wagon we used for our Three Loco comparison (CTS-V Wagon, Porsche Panamera Turbo, BMW X6M) ran the quarter in an identical 12.3 seconds, but its trap speed was a bit better, at 116.7 mph. Remember, that one was 80 pounds lighter. Still, 12.3 seconds in the quarter mile is an excellent time for any car and remains an absurd performance for a station wagon; 12.3 seconds is exactly the same, in fact, as the Chevy Z/28, one tenth of a second better than a BMW i8, and one tenth of a second behind a BMW M4 and the 50th Anniversary 911.
Full Story:
2014 Cadillac CTS-V Wagon First Test - Motor Trend