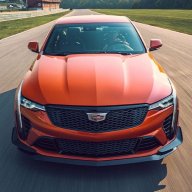 Administrator
Staff member
Joined

Nov 3, 2011
Messages

3,893
Location
V-Series Cadillac(s)?

Not Yet!
2014 Cadillac CTS-V coupe: Almost perfect, and almost affordable
By Warren Brown, Published: November 29
The Washington Post
CORNWALL, N.Y.
— Anyone can make a good car for $100,000 or more. I'm more impressed when it's done for less than that — which raises another question.
If it is possible to buy a good or even excellent automobile for substantially less than $100,000, is it really worth it to spend more?
After a week in the 2014 Cadillac CTS-V coupe, driving the roads between this pleasant Hudson Valley town and the congested rudeness of New York City, a round trip of about 130 miles, my answer is a resounding "No!"
What do exotic, outrageously expensive high-performance cars have that this second generation of the Cadillac CTS-V coupe doesn't? Is it power? No. The new coupe comes with a Corvette ZR1-derived supercharged gasoline V-8 delivering 556 horsepower and 551 pound-feet of torque.
Full Story:
2014 Cadillac CTS-V coupe: Almost perfect, and almost affordable - The Washington Post