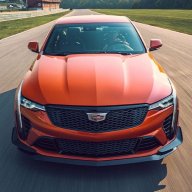 Administrator
Staff member
Joined

Nov 3, 2011
Messages

3,867
Location
V-Series Cadillac(s)?

Not Yet!
2014 Cadillac CTS Sedan is Engineered for Excellence
Strong, lightweight structure is foundation for nimble, refined driving experience
2013-03-26
NEW YORK –
The all-new 2014 Cadillac CTS sedan brings a renewed spirit of driver engagement and exceptional refinement to the midsize luxury segment, rooted in a lightweight, rigid structure that fosters class-challenging performance and quietness.
Cadillac's acclaimed rear-drive architecture is the foundation for the new CTS's driving experience. It's borne from the architecture also used with the award-winning ATS compact luxury sedan, but optimized for the dimensions and dynamics of a midsize luxury sedan.
The all-new CTS sedan is longer, lighter and stronger than the previous CTS sedan structure, which enabled more precise ride and handling tuning, as well as a quieter driving experience.
"The architecture helps the new CTS sedan advance its performance legacy with a tremendous feeling of balance and control that is reinforced with confidence-inspiring solidity and refinement," said John Plonka, CTS program engineering manager. "Its lightweight body structure is a strategic enabler for all elements of its performance, while its strength contributes to greater refinement through a smoother, quieter ride."
Indeed, many elements that contribute to the CTS sedan's balanced feel also enhance its refinement. The engine, for example, is located approximately 1.2 inches (30 mm) farther forward in the chassis than the shorter ATS, a dynamic that not only contributes to the car's nearly 50/50 weight balance, but its quietness. That's because the engine is further removed from the passenger compartment, which allows room for a thick, sound-absorbing pad on the front-of-dash panel that separates the engine compartment and interior.
Segment-exclusive Magnetic Ride Control is expanded to a wider range of CTS sedan models, available or standard with every engine and transmission combination, reinforcing the luxury sedan's light, direct feel with real-time damping that delivers exceptional smoothness and ride refinement.
Low mass brings weighty rewards
Innovative applications of lightweight materials – including the first aluminum doors ever on a GM production vehicle – help the 2014 CTS weigh in with an approximate base curb weight of 3,600 lbs. (1,633 kg). That's about 200 pounds (91 kg) less than the 2013 BMW 528i and approximately 7-percent less than the current model.
The unique aluminum front and rear door structures save about 16.5-pounds (7.5 kg) per door over traditional steel structures. Aluminum is also used for the hood, while other advanced materials, including magnesium and lightweight, high-strength, low-alloy steels and bake-hardenable steels, enabled engineers to tailor the CTS's structure down to the last gram, ensuring strength and refinement were achieved without unnecessary mass.
Additional highlights include:
Magnesium engine brackets are about 60-percent lighter and provide the same stiffness as conventional steel brackets
High-pressure die-cast aluminum front strut towers combine several traditionally steel-constructed parts into a single, lightweight component that is about 40-percent lighter and eliminates about 15 separate parts
A streamlined aluminum front chassis cradle that is about 60-percent lighter than conventional cradles.
Along with the body structure, the suspension employs extensive use of aluminum, including many of the links for the front suspension. Engineers were careful to balance the mass to ensure Cadillac's signature refinement wasn't sacrificed. The rear suspension cradle, for example, is made of steel, which helps quell noise and vibration, while providing counterweight to the powertrain at the front of the car to help the CTS achieve its nearly 50/50 weight distribution. Also, unique lower-front chassis braces provide stiffening reinforcement to the structure to support the connected driving feel and a smoother, quieter ride.
Computer modeling helped determine where material wasn't structurally required, allowing engineers to sculpt, scallop and create strategic lightening holes, resulting in about 6.5 pounds (3 kg) of unnecessary weight removed from the body structure.
"Every gram of material in the CTS's structure had to justify its existence," said Plonka. "As a result, the new CTS sedan is lighter, stiffer and more refined than its predecessor, despite being longer – a significant achievement that forms the roots of its responsive, connected driving experience."
Indeed, the lighter, longer body-frame-integral structure is approximately 40-percent stiffer than the current model and achieves the best global torsional stiffness ratings in the segment.
Nimble, controlled driving experience
Engineers capitalized on the new CTS sedan's low curb weight and stiff structure with carefully selected chassis and suspension components that enable its more nimble and responsive driving experience. In fact, the lightweight structure fostered a snowball effect of other lower-mass components.
"Because we didn't have to account for a heavier body structure, were able to optimize the CTS's driving performance without having to rely on larger, heavier components, including the wheels, tires and brake components," said Plonka. "We optimized performance by using smaller, lighter components, which reduced unsprung weight to enhance nimbleness and responsiveness."
The solidity of the CTS sedan's new structure also enabled Magnetic Ride Control's expanded application in the lineup, offering more customers the ride and handling advantages of the technically advanced real-time damping system. It delivers more precise body motion control, "reading" the road every millisecond and changing damping as quickly as five milliseconds.
Sophisticated front and rear suspension systems are at the heart of the CTS's responsive feel and smooth driving dynamics. They include a multi-link MacPherson strut suspension, with a double-pivot design for a more precise feeling of control, and a five-link independent rear suspension that helps reduces roll-center motion, enables positive lateral control and promotes excellent dynamic stability.
CTS sedan also employs a premium electric, variable-assist power steering gear from ZF Steering Systems designed to deliver excellent response and on-center characteristics.
Quietness and refinement
Along with its more solid feel and responsive driving experience, the new CTS sedan is a very quiet car – an attribute rooted in the stronger, lighter structure.
"A stiffer, lower-mass structure makes it easier to tune out or isolate powertrain, road and wind noise," said Plonka. "In fact, engineers focused more on tuning the sound quality in the cabin than strictly reducing the noise level. This was accomplished by reducing noises at unpleasant frequency ranges, minimizing all directional noises and allowing those noises that enhance the driving experience to be heard."
Advanced acoustic measurement and analytical technologies, including devices that record and play back sound exactly as humans hear, were used to evaluate sounds and sound levels in test vehicles. Engineers listened to the recordings through special headphones in an acoustically optimized quiet room, allowing them to analyze the entire spectrum of sounds and eliminate, refine or enhance specific noises.
The result is an exceptionally pleasing ride experience that's quiet when expected and pleasing when audible feedback is in order. Some of the acoustical treatments that help achieve the quiet performance include:
An engine air intake system tuned specifically for the CTS sedan to deliver excellent airflow with lower noise
A custom dash panel featuring strategic applications of laminated steel, which provides sound deadening in key areas rather than the entire dash, reducing the weight compared to a fully laminated or fully damped panel
A double-wall acoustical barrier created by sandwiching the front-of-dash panel between two damping mats. The passenger-side mat is covered with a cast-foam and molded barrier that fits like a glove over the panel's contours, while the engine-side mat is a 30mm-thick formed fiberglass component, which contains another barrier layer and fits like a glove over the dash panel
CTS-specific acoustic material in the transmission tunnel, under the vehicle, in the rear package shelf and other areas
Lightweight polypropylene absorption insulation that enables greater acoustic performance with less mass. It is more than 50 percent lighter, with greater sound-absorption qualities, than conventional acoustic insulation. It is used in the trunk trim, under the rear deck and throughout the interior trim
GM-first application of vibration damping foam – similar to the memory foam found in premium bedding – is used on the top layer of the CTS sedan's front seats to absorb resonance from the lower portion of the vehicle
Acoustic-laminated windshield and front side-door glass are standard, with laminated rear-side doors available
Engine compartment side curtains made a sound-absorbing, non-woven polyurethane material that close out the wheel well area down to the chassis to block noise.
Active noise cancelation also contributes to the CTS sedan's refined performance, reducing noise levels by up to 20 decibels in certain conditions. It is enabled by the Bose sound system and a unique processor that takes input from several interior-mounted microphones and sends opposite-tuned frequencies through the sound system's speakers to cancel out undesirable sounds.
"Importantly, we haven't eliminated every sound, but blocked nuisance sounds and enhanced the quality of others, such as the strong sound of the new 3.6L Twin-Turbo engine under acceleration," said Plonka. "The result is excellent sound quality of what you hear – and, frankly, that's not very much, because this is an exceptionally quiet car."
Active noise cancelation also contributes to the car's low curb weight, because less dense, heavy sound-damping material is required throughout the body structure. The materials used to help suppress, block or eliminate noise, however, are technically advanced, and represent countless hours of analysis that determined optimal location and application size.
"Strategic applications delivered the quietness and sound quality we wanted with minimal mass," said Plonka. "It all ties back to making the CTS as balanced as possible through low weight and high strength."
Additionally, features including vacuum-actuated, multistate engine mounts, hydraulic ride bushings, stiffer aluminum wheels and more complement the quietness by attenuating vibration for a smoother ride that's at the core of Cadillac's uncompromising driving experience.