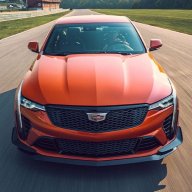 Administrator
Staff member
Joined

Nov 3, 2011
Messages

3,891
Location
V-Series Cadillac(s)?

Not Yet!
2013 Cadillac CTS-V Wagon offers thrills -- but not for much longer
Published: August 14, 2013 12:44 PM
By THE ASSOCIATED PRESS
The 2013 Cadillac CTS-V Wagon — the only V-8-powered station wagon factory built in the United States — is a rare blend of awesome acceleration, luxury accoutrements, sporty handling and station-wagon functionality.
It's like having the cargo room of a compact sport utility vehicle at the back of a sporty luxury car — except the luxury car also has a great exhaust note and a supercharged V-8 that generates 556 horsepower.
This combination isn't the only thing that makes the CTS-V Wagon rare.
Only about 1,200 have been sold since the wagon debuted for the 2011 model year. And with the introduction of the next-generation CTS later this year, Cadillac will stop building the wagon version of its mid-size CTS.
At that point, U.S. car buyers who want a V-8-powered station wagon — and admittedly, there aren't many — will have only the Mercedes-Benz E-Class wagon to meet their needs.
To be sure, the CTS-V Wagon can be costly to own.
Because of its gasoline mileage — averaging just 14 miles per gallon in combined city/highway travel — the CTS-V Wagon incurs a federal gas guzzler tax of $1,300 or $2,600 at the time of the car's purchase. The tax differs, based on manual or automatic transmission.
The federal government's fuel economy ratings of only 12 mpg in city driving and 18 mpg on the highway for the 2013 CTS-V Wagon make it the worst gas guzzler among station wagons sold here. Plus, pricier premium gasoline, rather than regular, is required for the 18-gallon tank for the 6.2-liter V-8.
Then there's the manufacturer's suggested retail price, including destination charge: $65,410 for the base, 2013 CTS-V Wagon with manual transmission. The lowest starting retail price for a 2013 CTS-V Wagon with a six-speed automatic is $66,710.
The prices compare to the $40,100 MSRP, including destination charge, of the base, 2013 CTS Wagon with no "V'' and with 270-horsepower, direct-injection V-6 mated to an automatic transmission. A mid-level, 2013 CTS Wagon with 318-horsepower V-6 starts at $45,085.
The starting retail price for a 2014 Mercedes E63 AMG Wagon with 577-horsepower, twin-turbo V-8 is more than $92,000.
The CTS-V Wagon is offered only in rear-wheel drive, not with all-wheel drive. But it comes with standard features that are often extras on other family- and cargo-hauling vehicles.
For example, the power rear liftgate is standard as are 19-inch wheels, Bose surround sound, rear park assist, rearview camera, rain-sensing wipers, navigation system and leather-trimmed seats with sueded fabric inserts.
A screen that displays, among other things, the navigation system map rises from the top of the center of the dashboard when in use and recedes out of sight into the dashboard when not in use.
The 16-foot-long car appeared to be average size for a sedan. In fact, the wagon had just 0.7 inch more bumper-to-bumper length than the mid-size CTS sedan. The wagon back end was integrated smartly into the design.
The test, all-black CTS-V Wagon looked both sleek and sinister; there was no ignoring the dealer-installed black chrome grille and its large air intake that feeds the big, supercharged V-8.
Nor could anyone fail to hear the deep, throaty V-8.
One press on the accelerator pedal and the driver and passengers were pushed forcefully back into their seats. Power kept coming — strong and steady — and it made no difference if this wagon was on a flat straightaway or heading uphill.
Everyone felt exhilarated — and some were a little wary — of all the power available and how quickly the peak torque of 551 foot-pounds comes to bear at 3,800 rpm.
It certainly was challenging to stay within speed limits.
The CTS-V Wagon moved purposefully and with tight body control on curves and in back-and-forth slalom maneuvers. During an emergency change of lanes to avoid an obstacle, the CTS-V Wagon moved confidently like a slot car from one lane to the other and back again.
The CTS-V Wagon has Cadillac's Magnetic Ride Control technology that helps manage button-down handling without a punishing ride.
Braking was impressive, too. The test car had optional yellow-colored Brembo brake calipers that were visible at the wheels. These brakes were sizable — 15 inches in front and nearly 15 inches in the back — and provided quick slowdowns and stops. Best of all, the brake pedal had good, linear progression and did not feel overly grabby.
Some road noise from the 19-inch, performance tires came into the interior. But sounds from nearby vehicles were muted, and wind noise was never noticed.
With a car-like height of 4.8 feet, the CTS-V Wagon doesn't afford views above traffic.
Front seats, in particular, can be easily adjustable to make them comfortable for 5-foot-4 riders all the way up to 6-foot-plus.
The back seat, whose seatbacks can fold flat to provide nearly as much cargo space at the rear as a Nissan Murano, has 36.1 inches of legroom, or 0.3 inch more than the E-Class Wagon.
Standard safety features on the CTS-V Wagon include traction control, electronic stability control, antilock brakes and front, side and curtain air bags.
The CTS-V Wagon earned five out of five stars in side crash tests by the federal government.