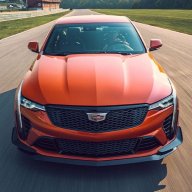 Administrator
Staff member
Joined

Nov 3, 2011
Messages

3,893
Location
V-Series Cadillac(s)?

Not Yet!
2013 Cadillac CTS-V Wagon is the four-door Corvette of fantasies
The 2013 Cadillac CTS-V Wagon features an engine derived from the same one that sits beneath the hood of the Chevrolet Corvette, making it a supremely powerful family wagon. With performance-focused suspension, a sporty cabin, and a full-length sunroof, the 2013 Cadillac CTS-V starts at $65,410.
By Jeffrey Jablansky / NEW YORK DAILY NEWS
Tuesday, September 17, 2013, 2:43 PM
At the short entrance ramps that frequently dot the West Side Highway, the key to a smooth merge is identifying the sweet spot in the flow of traffic, and accelerating with enough force to keep up. Both a joy and a frustration to drivers, the on-ramps are a relic from the days when motorways were slower-paced and less technically designed.
Two Saturdays ago, I offered to give a friend a ride downtown to her East Village apartment in that week's test car, a wagon. As we rounded the 79th Street cloverleaf entry point, I came to the stop sign as usual, and began the waiting game for the gap in traffic.
As the last car passed, I looked left, then promptly put my right foot to the floor. Amid a squealing, squirreling cacophony of rising revs, spinning tires, and a choked-up exhaust note, we rocketed to the speed limit and several times beyond it. As I laid off the hammer, my shaken, confused passenger struggled for words.
"Your station wagon just left a cloud of smoke behind us," she said.
Full Story:
2013 Cadillac CTS-V Wagon is the four-door Corvette of fantasies - NY Daily News