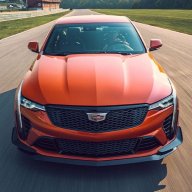 Administrator
Staff member
Joined

Nov 3, 2011
Messages

3,891
Location
V-Series Cadillac(s)?

Not Yet!
2013 BMW M5 vs. 2012 Cadillac CTS-V - Comparison Test
Forced-induction fisticuffs, with combatants from America and Germany.

By Shaun Bailey / Photos by Brian Blades
Road and Track Magazine
June 20, 2012
It's tough to be the king. Sit upon a throne long enough and someone's bound to come along and try to knock you off—as was the case in the summer of 2008 when Cadillac released its all-new CTS-V to challenge the nearly 4-year-old sports sedan king, the BMW M5 (2009 Cadillac CTS-V vs. 2008 BMW M5 SMG). It was a historic moment that has helped to redefine Cadillac's image. GM's luxury division made no bones about it in 2008, as it specifically developed the CTS-V to knock the 2005–2010 E60 M5 off its pedestal. BMW graciously rose to the challenge and fought it out with the upstart on the racetrack, the BMW driven by Bill Auberlen and the CTS-V by John Heinricy. Not surprisingly, the CTS-V narrowly edged out the M5. If it hadn't, we suspect someone in Cadillac's engineering department would have been fired. Fast forward and BMW is now ready for some payback with its new F10 M5.
Full Review:
Black & Blue: 2013 BMW M5 vs 2012 Cadillac CTS-V ? M5 vs CTS-V Comparison Test