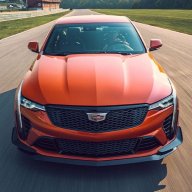 Administrator
Staff member
Joined

Nov 3, 2011
Messages

3,866
Location
V-Series Cadillac(s)?

Not Yet!
2012 Cadillac CTS-V Coupe Review
by Carey Russ
The Auto Channel
"Iron fist in a velvet glove" is a term that has been used to describe many a German or British high-performance car. Applied to an automobile, the term means a combination of first-rate sports car performance and handling with luxury levels of comfort and refinement.
The Europeans no longer have a monopoly on the genre. The description applies just as well to the Cadillac CTS-V, especially in coupe form. To styling that looks like a spin-off from the Lockheed F-117 program add a supercharged and intercooled 6.2-liter V8 boasting 556 horsepower and chassis upgrades to cope with that very well indeed. The interior gets subtle upgrades, and unlike many luxury cars today electronic distractions are notably subdued or absent. This is a car for driving, not a connectivity module!
Full Review:
2012 Cadillac CTS-V Coupe Review by Carey Russ