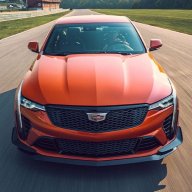 Administrator
Staff member
Joined

Nov 3, 2011
Messages

3,871
Location
V-Series Cadillac(s)?

Not Yet!
2011 Cadillac CTS-V vs 2012 Mercedes-Benz E63 AMG
Superwagon Showdown: Batman and Superman of the Wagon World Go to War
February 07, 2012
By Jonny Lieberman
Motor Trend Magazine
Meet the Mercedes-Benz E63 AMG Wagon and the Cadillac CTS-V Sport Wagon. On the family tree of high-performance station wagons, each of these newcomers can trace their lineage directly back to the AMG Hammer Wagon. But somewhere along the way, there was a split. The Cadillac inherited the sinister, murdered-out looks, and the E63 kept the AMG name as well as the three-pointed star. Both got power up the yazoo and the yin-yang. I've already laid out my cards above, but to me, these two machines rank quite high among the very most desirable cars in the world. Should I live 50 more years, I'll still be talking about them. I am of course in the extreme minority. The proof: The Cadillac and AMG wagons are the absolute rarest products General Motors and Mercedes-Benz produce, period. Not only are there more Corvette ZR1s than CTS-V Wagons, there are more SLS AMG Gullwings than there ever will be E63 AMG Wagons. Both are essentially special-order only.
Full Story:
2011 Cadillac CTS-V vs 2012 Mercedes-Benz E63 AMG - Motor Trend