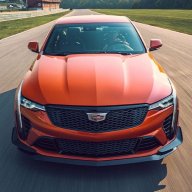 Administrator
Staff member
Joined

Nov 3, 2011
Messages

3,871
Location
V-Series Cadillac(s)?

Not Yet!
2011 Cadillac CTS-V Long-Term Update 4
May 03, 2012
By Jonny Lieberman
Motor Trend
Nothing has broken! Excuse my exclaiming so, but not one single thing on our long term Cadillac CTS-V has broken! On the way in to the office this morning I noticed the odometer had crested 29,500 miles, and not one single anything has broke. See, I mention all this because while nearly 30,000 miles is a lot for any car in 10 months, the CTS-V Wagon's miles have been fairly brutal. In fact, the near-30,000 miles we've rung up on the Caddy's counter would have killed lesser cars. But it hasn't been perfect.
Full Story:
2011 Cadillac CTS-V Long-Term Update 4 - Motor Trend