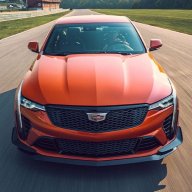 Administrator
Staff member
Joined

Nov 3, 2011
Messages

3,809
Location
V-Series Cadillac(s)?

Not Yet!
Why GM Is Making Radical Moves With Cadillac
By John Rosevear
The Motley Fool
For several years now, General Motors has been hinting -- loudly -- that it has grand ambitions for its frayed old luxury brand, Cadillac.
We've seen those ambitions move forward in fits and starts. On one hand, after decades of Cadillac products that might best be described as "lousy," the brand now has a couple of extremely good vehicles to sell.
Cadillac's latest models, the ATS and CTS sedans, are superb products. They're well-built, fun to drive, and compare quite well with the best from the big three German luxury brands.
But on the other hand, Cadillac's U.S. sales are down 9.6% this year through October -- and the brand's sales in overseas markets don't yet amount to a whole lot.
And recently, GM has made a series of mystifying moves with its old luxury brand, including one that caused great consternation in GM's hometown: Cadillac is packing up and moving to New York.
What's all this about? As Cadillac's new president explained in a recent presentation to Wall Street analysts, there's a method to GM's seeming madness -- and it makes a lot of sense in context.
Full Story:
Why GM Is Making Radical Moves With Cadillac