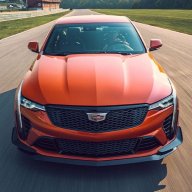 Administrator
Staff member
Joined

Nov 3, 2011
Messages

3,893
Location
V-Series Cadillac(s)?

Not Yet!
2014 Cadillac CTS Vsport Twin-Turbo V-6
Veni, Vidi, Vici: The new CTS Vsport puts Cadillac back in the $60K chariot race.

September 2013
BY AARON ROBINSON
The lone domestic premium brand with a pulse is growing ever stronger and more confident as it slowly rises from its 30-year snooze. The second-generation Cadillac CTS-V and the new ATS were the first payments on debts from promises long made and *routinely broken. Now we've driven the reborn CTS and believe the General is indeed serious about returning Cadillac to the pointy end of the luxury market.
How do we know? Well, the 420-hp twin-turbo CTS Vsport we drove on GM's own handling track and that streaked to 60 mph in 4.4 seconds simply felt fantastic, with a muscular engine integrated into a neutral chassis that's been pulled as tight as piano wire. And, driving impressions and test figures aside, the CTS makes strides in cracking one of GM's hardest nuts, the company's persistent weight problem.
The CTS's chief engineer, Dave Leone, tells us that the entire project was developed not with pounds or kilograms as the unit of measurement, but grams. A gram equals 0.0022 pound. Anyone presenting an idea to cut weight had to speak in grams, he says. "That's how granular we had to be to beat the boys in Bavaria." The CTS Vsport we tested sans the optional sunroof  weighed 1,798,947 grams with a slight rear bias. That's not exactly a gossamer goose, but it is substantially lighter than this particular model's stated bogey, the BMW 550i. We tested that one in 2010, and it weighed 2,003,517 grams, or 4417 pounds, or 451 pounds more than our CTS Vsport test car. That's roughly the gap between New York and Cleveland in an industry currently squeezing its designs for every possible pennyweight.
Full Story:
2014 Cadillac CTS Vsport Twin-Turbo V-6 Test – Review – Car and Driver