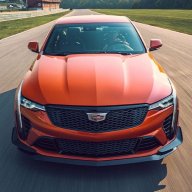 Administrator
Staff member
Joined

Nov 3, 2011
Messages

3,871
Location
V-Series Cadillac(s)?

Not Yet!
Upcoming Top-End Product Named Cadillac CT6
2014-09-24
GM Press Release
DETROIT
– Cadillac announced today that its new, high-technology car positioned at the top of its range will be called Cadillac CT6.
"The Cadillac CT6 continues our brand's elevation and global growth," said Uwe Ellinghaus, Cadillac chief marketing officer. "CT6 will constitute an entirely new approach to the prestige sedan, emphasizing a dynamic driving experience and advanced technology."
When it launches in late-2015, the CT6 will expand the Cadillac range upwards – meaning it will not replace any current product. Positioned above today's CTS and XTS product lines, the CT6 aims to join the elite group of top-class large luxury cars.
Currently in development, the new RWD-oriented sedan uses advanced, lightweight materials and new body construction techniques to reduce fuel consumption while enhancing driving dynamics and safety.
"This Cadillac will be the lightest and most agile car in the class of top-level large luxury sedans," said Travis Hester, executive chief engineer, Cadillac CT6. "Using the lessons learned from our dynamic ATS and CTS product lines, we have developed an entirely new vehicle architecture for the CT6. It will employ a mixed material philosophy that combines the best and most efficient components optimized for each area of this new top-of-the-range car."
The model name CT6 is derived from Cadillac's use of CTS for its centerpiece carline, the current version of which is Motor Trend Car of the Year for 2014, Road & Track's Best Luxury Sedan and one of Car and Driver's "10Best." The name also indicates a coming shift to a simplified naming convention for future Cadillac models. Under this strategy, familiar lettering like "CT" would be used for car models, with the number indicating the relative size and position of the cars in the hierarchy of Cadillac models.
"As we expand the portfolio, we can assist consumers in placing the cars within a structure, as they compare cars both within our showroom and across the market generally," Ellinghaus said. "However, this will be an evolutionary process – we will only change a product's name when the product itself is redesigned or an all-new model is created, as in this instance."
The Cadillac CT6 will be assembled in Detroit, part of a previously announced $384 million investment in the Detroit-Hamtramck plant. Tools and equipment unique to the CT6 were installed recently at the plant. Production is slated to begin in the fourth quarter of 2015.
Cadillac has been a leading luxury auto brand since 1902. Today Cadillac is growing globally, driven by an expanding product portfolio featuring distinctive design and technology. More information on Cadillac appears at
Luxury Cars, SUVs, Sedans, Coupes, and Crossovers | Cadillac
. Cadillac's media website with information, images and video can be found at media.cadillac.com.
###​