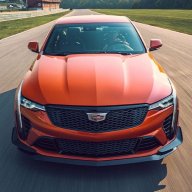 Administrator
Staff member
Joined

Nov 3, 2011
Messages

3,867
Location
V-Series Cadillac(s)?

Not Yet!
The Cadillac XLR finds its niche in retirement
September 3, 2014
By Brett Berk
Autoweek Magazine
Christened the XLR, it was based on the outgoing C5 'Vette's platform, but with a 4.6-liter,
320-hp Northstar V8 in its nose. Photo by Josh Scott
Modern Misfits - Driven To Success
The last year of the 20th century was not a triumphant one for Cadillac. Its traditional rear-wheel-drive Fleetwood land yacht had finally been put out to sea. Its front-drive Seville and Eldorado, despite their relatively sophisticated Northstar V8s, were as aging and lacking in noticeable updates as their customers. Its import-fighting Catera—purloined from Opel, making it an import itself—had seen sales plummet as consumers zagged away from this "Caddy that Zigs." And the brand's one boost came from the hasty badge engineering of GMC's lumbering Yukon, creating the enormous and embellished Escalade, a rolling symbol of the very past Cadillac was working to escape.
Slicing through this miasma and confusion was the Evoq, a radical, rapier-edged concept car unveiled at the 1999 Detroit auto show. The Evoq was unlike any Cadillac before it: a sporting, rear-wheel-drive, V8-powered, retractable hardtop-equipped, luxury grand tourer. "It was patently controversial," says David Caldwell, a Cadillac spokesman who was then part of Evoq's product
development team.
It marked a fork-in-the-road-moment for the brand. The first-generation CTS sedan—the car that would eventually transform consumer perception of Cadillac—was taking shape under Cadillac's new "Art and Science" design language, but no one had yet seen that car. "Instead, they showed this thing that looked like the Batmobile, but better," Caldwell says. "Evoq was a show pony to demonstrate how Cadillac could be revived in a modern way. And they decided it needed to be built."
It was, eventually, at the Corvette plant in Bowling Green, Ky. Christened the XLR, it was based on the outgoing C5 'Vette's platform, but with a 4.6-liter, 320-hp Northstar V8 in its nose. It came equipped with every imaginable luxury feature, including wood trim, heated and cooled seats, and a touchscreen LCD infotainment display. It was also a rolling incubator for technologies that would eventually become Cadillac signatures. "It was the first car that came standard with Magnetic Ride Control," Caldwell says. "The white-coat engineers in the Delphi lab had been working on that for 25 years, but this was the first time it was standard."
Full Story:
Driven To Success | Autoweek