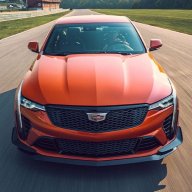 Administrator
Staff member
Joined

Nov 3, 2011
Messages

3,893
Location
V-Series Cadillac(s)?

Not Yet!
Test Drive: 2013 Cadillac CTS-V Coupe
The Caddy's big V-8 is in a class by itself, producing triple digits more hp than its next-closest rivals. And so much more torque, it's embarrassing (to the competition) to make the comparison.
Written by Eric Peters on Friday, 28 June 2013.
Posted in Automotive, Business
American Daily Herald
Power is everything – when it comes to the Cadillac CTS-V.
Its 556 hp (and 551 lbs.-ft. of torque) supercharged 6.2 liter V-8 make a BMW M3′s 4 liter, 414 hp – and 295 lbs.-ft. of torque – V-8 seem almost . . . fey.
Zero to 60 in just under 4 seconds (the M3 needs 4.6).
Six-speed manual gearbox – standard – vs. unavailable in the automatic-only Benz C63 AMG and Audi RS5.
And – you can go coupe (subject of this review) sedan – or wagon. Take your pick.
What was it MC Hammer said?
Can't touch this.
Full Story:
Test Drive: 2013 Cadillac CTS-V Coupe