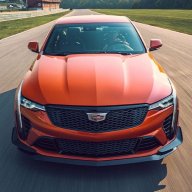 Administrator
Staff member
Joined

Nov 3, 2011
Messages

3,893
Location
V-Series Cadillac(s)?

Not Yet!
Test Drive: 2012 Cadillac CTS-V coupe
August 27, 2012
by Paul Williams
Autos.ca
You won't see too many Cadillac CTS-V Coupes on the street, but when you do, your gaze is guaranteed to linger. Some think it's awesome, some not so much, but whatever your opinion, with this car you'll certainly have one.
The CTS-V is Cadillac's extreme performance version of its mid-size CTS series of vehicles. The "V" stands for velocity, the potential for which this car has in abundance. Under the hood you'll find a 6.2L supercharged V8 engine that makes 556 hp at 6,100 rpm and 551 lb-ft of torque at 3,800 rpm. It's a mover and a shaker.
Full Review:
Test Drive: 2012 Cadillac CTS-V coupe - Autos.ca