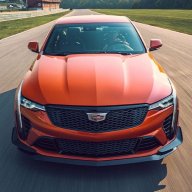 Administrator
Staff member
Joined

Nov 3, 2011
Messages

3,893
Location
V-Series Cadillac(s)?

Not Yet!
Spy Photos: 2014 Cadillac CTS Shows Interior, Turbo Motor
By Mike Magrath | June 11, 2012
Edmunds InsideLine
The 2014 Cadillac CTS is right around the corner and we're finally getting to see the new design as bits of camo are peeled away.
And the big thing peeled away this time is the hood. Hiding under that hood is a new twin-turbo V6 that gets a handy engine cover with "Twin Turbo" molded in. These engine covers are more than decorative as they're an integral part of controlling the rather unpleasant sounds of direct-injection so it's expected that they need to test with them installed. They took the time to cover up the Wreath and Crest, but left the fun stuff.
Full Story and pictures:
Spy Photos: 2014 Cadillac CTS Shows Interior, Turbo Motor