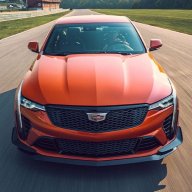 Administrator
Staff member
Joined

Nov 3, 2011
Messages

3,871
Location
V-Series Cadillac(s)?

Not Yet!
Featured: Such Sweet Sorrow: Cadillac's CTS-V gets an Irish wake
We Join GM At COTA To Give Its Performance Hero A Worthy Sendoff
Copyright 2014 Steve Siler / AOL
As the saying goes, all good things must come to an end. The honkin', stonkin' second-generation CTS-V, powered by Cadillac's brawny supercharged 6.2-liter V8 has been a very good thing. And now that the 500 final coupes – the only CTS-Vs designated 2015 models – have been built (just five remain unsold as of this writing), it is indeed a good thing that's come to an end.
But Cadillac is not letting 2009–2015 CTS-V go gently into that good night, even as its replacement is poised to debut in just in just two months at the 2015 Detroit Auto Show. Instead, Cadillac invited us to Austin's Circuit of the Americas racetrack for what it called an "Irish wake" for the model that has proven to be one of the quickest and most charismatic models in General Motors' history.
If you don't know what an Irish wake is, if you envision storytelling, songs, debauchery and more than a little liquor, you'll be in the ballpark. In this case, though, adrenaline substituted in for the booze, with squealing tires and shrieking V8s providing the singing. The debauchery took the form of an all-you-can-drive lapping of COTA in all three bodystyles – coupe, sedan and wagon – and the stories were told by the grins plastered on our faces all day.
Full Story:
Featured: Such Sweet Sorrow: Cadillac's CTS-V gets an Irish wake