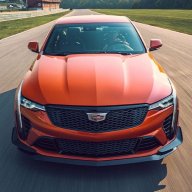 Administrator
Staff member
Joined

Nov 3, 2011
Messages

3,260
Location
V-Series Cadillac(s)?

Not Yet!
So...as promised, I was able to get more information from Cadillac to some of the questions members here have been asking.
I figured I'd start a new thread as to not muddle-up other topics that are already going on.
If you have placed a Reservation with your $1,000 deposit and you want to change your reservation to another dealer:
Dealer change request cutoff is March 5th! If you want to change dealers, you must do so before then!
Customers will NOT be submitting a deposit to the new dealer
The current dealer that holds your reservation must send to their District Sales Manager: the reservation holder's first and last name, and preferred new dealer
Original dealers should process refund
I'm confused about how the deposit is handled so I'm waiting for clarification.
I understand that customers are confused about placing orders and allocation, and when they might see their cars built after the initial 500 reservations are produced. As of right now, Cadillac has not released any details on allocation or when orders might start getting processed after the initial 500 are built. Cadillac dealers are in as much dark as the customers right now, so if the responses you receive from your Cadillac dealer seem vague - that's why.
If you want to place an order, there is a waiting list you can get on at Cadillac.com. How that waiting list is handled after production begins, I cannot say.
I'll continue to provide as much information in this thread as I can.