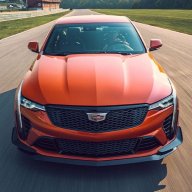 Administrator
Staff member
Joined

Nov 3, 2011
Messages

3,871
Location
V-Series Cadillac(s)?

Not Yet!
Bose(R) Active Sound Management Technology Minimizes Powertrain Noise in All-New Cadillac ATS
FRAMINGHAM, Mass., Jan 11, 2012 (BUSINESS WIRE)
-- The 2013 Cadillac ATS comes equipped with powerful, proprietary technology from a new category of Bose automotive offerings: Bose(R) Active Sound Management. Developed over the past decade, Bose Active Sound Management leverages over 30 years of Bose research in automotive acoustics and noise cancellation, providing vehicle manufacturers with engineering solutions for controlling noise in the vehicle cabin. In the ATS, Bose Active Sound Management reduces the unwanted low frequencies created by the engine, transmission and other powertrain components for a remarkably quieter ride.
Unlike conventional noise-management systems that rely on mechanical solutions, Bose Active Sound Management is lightweight and efficient, using sophisticated electronics to replace heavy, space-consuming parts, including acoustic insulation, mass dampers and active engine mounts. This does more than create lower noise levels and fuel consumption in the ATS; it offers Cadillac engineers more flexibility in their engine designs, so they can retain the vehicle's desirable sound qualities.
"Bose(R) Active Sound Management is another Bose innovation that reflects our continued research and commitment to the automotive industry," said Brandon Westley, president of the Bose Automotive Systems Division. "Today's advanced powertrains -- like the one in the ATS -- are designed for better performance, but can also produce unfamiliar and undesirable noise inside the car. Bose Active Sound Management helped Cadillac target and cancel these sounds with a level of precision that hasn't been previously available."

An Engineering Collaboration
Cadillac's engineers first pinpointed unwanted low-frequency powertrain noise. Bose engineers then used three precisely placed microphones in the ATS cabin to continuously monitor those sounds, and sophisticated electronics to create an acoustically opposite signal that's delivered through the Bose sound system's rear-shelf woofer and in-door speakers. The technology is rapid, continuous and automatic, requiring no manual adjustment by the driver.
Bose Surround Sound: Also Available in the Cadillac ATS
The ATS features an optional 10-speaker Centerpoint(R) surround sound system that integrates the most advanced Bose surround sound technologies, or a standard seven-speaker Bose sound system. Both systems were designed for the vehicle's unique interior using the Bose proprietary "clean sheet" method.
Bose and Cadillac: Decades of Innovation
The ATS marks three decades of collaboration between Bose and Cadillac. Today, Bose Active Sound Management is available in the ATS, the Escalade SUV and the recently introduced XTS Sedan. Bosesound systems are available in every Cadillac model today, including the current CTS Sedan, Coupe and Wagon, SRX Crossover, Escalade and XTS. For more information on Bose automotive systems and technologies, visit the "Innovations" section at
Bose Automotive Systems Division
.
About Bose Automotive Systems
In 1982, Bose engineers created the world's first factory-installed premium sound systems for General Motors luxury automobiles. Unlike conventional or aftermarket automotive systems, these Bose systems were specifically designed and tuned for the particular model in which they were installed, and helped transform the automobile from a hostile listening environment into a haven for music enjoyment.
Since then, Bose has developed proprietary speaker designs, advanced amplification and signal processing technologies, and exclusive analysis and design tools for automotive sound systems, all based on a heritage of research and innovation.
Today, Bose automotive sound systems are recognized around the world as the industry benchmark for performance and customer satisfaction.

About Bose Corporation
Bose Corporation was founded in 1964 by Dr. Amar G. Bose, professor at the Massachusetts Institute of Technology. Today, the company is primarily known for acoustics; however, its research has resulted in products for non-audio fields. Bose inventions have improved the performance of:
-- Loudspeakers
-- Home entertainment systems
-- Automotive music systems designed for the interior acoustics of each car model (first introduced by Bose)
-- Noise reducing headsets for pilots and the public (first introduced by Bose)
-- Sound in public spaces
-- The production of sound for musicians requiring electronic amplification of their instruments
-- Materials testing and durability simulation instruments for biomedical applications
-- Driver suspension systems for heavy-duty trucks
SOURCE: Bose Corporation