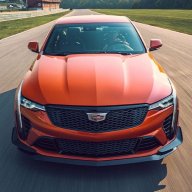 Administrator
Staff member
Joined

Nov 3, 2011
Messages

3,866
Location
V-Series Cadillac(s)?

Not Yet!
Pirelli World Challenge a tough test for Cadillac Racing in Toronto

Cadillac factory driver Andy Pilgrim reviews his race weekend
Andy Pilgrim's Autoweek blog
The Pirelli World Challenge Toronto weekend was one that I was really looking forward to running. Based upon Cadillac Racing's strong showing in street races this year, we felt this might be our last good chance for top finishes -- we'd already had one-two finishes at Long Beach and Detroit.
We went into Toronto with our third "balance of performance" adjustment of the year, and it really hurt. In race one, I was only able to qualify ninth. I managed to make up a position on the start and fought as hard as I could for the number of green-flag laps we had.
There were several yellows, and the first one cost us a huge chunk of our race. The bumping and over-aggressive driving in race one was surprising, to say the least. I was able to move up from ninth to sixth and was very happy with my driving. My car wasn't handling perfect, and it was a major job to stay ahead of James Sofronas in his Audi.
My teammate, Johnny O'Connell, moved up a couple positions on the start and managed to hold on to third, which was a great job considering where we qualified. We are certainly struggling a little right now, as shown by Johnny and I having the eighth and ninth fastest laps in the race. There were just three-hundredths of a second difference between us.
Grid positions for the second race of a World Challenge weekend are based on fastest laps from the first race, so that is where we started for race two: eighth and ninth. We are supposed to be strong on street courses, so eighth and ninth fastest was tough to take.
Full Story:
Pirelli World Challenge a tough test for Cadillac Racing in Toronto | Autoweek